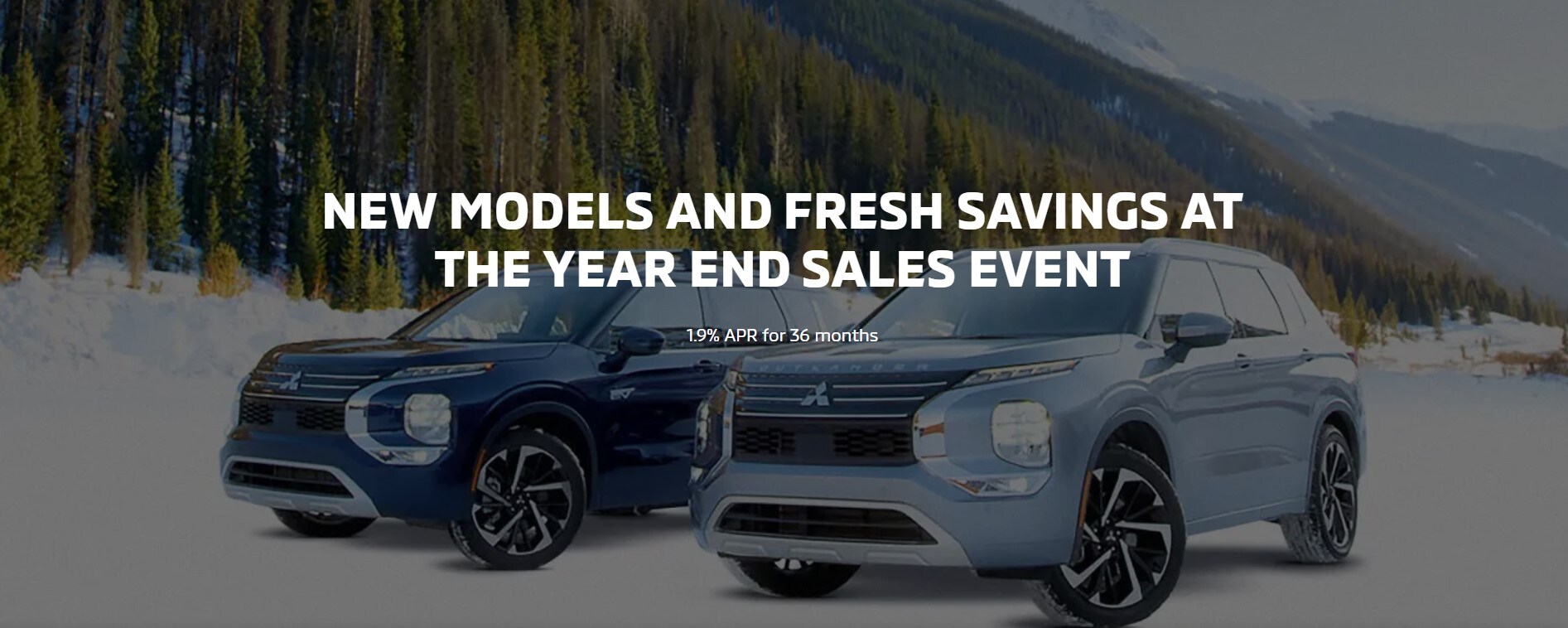 2023 Mitsubishi Outlander
Starting at $27,290*
Go your own way in the all-new 2022 Outlander. Reimagined from top to bottom, it pushes the bounds of what an SUV can be. The powerful front face sits higher and wider, with substantial proportions and chiselled horizontal lines. Factor in the dramatic looks, iconic rear design and premium touches, and you'll have to get used to attracting second glances - and maybe even open stares. Featuring Mitsubishi's signature Super All-Wheel Control and a comfortably upscale interior with seating for up to seven, every detail of the Outlander is crafted to deliver more driving pleasure. More than just a redesign, the 2022 Outlander is a reinvention, a turning point in the evolution of Mitsubishi Motors.
All-New 2023 Mitsubishi Outlander PHEV
Starting at $39,845*
Go All Out with the All-new 2023 Outlander Plug-in Hybrid Electric Vehicle. The lithium-ion battery pack delivers an electric range of 38 miles on a full charge, so you can enjoy a cleaner, more efficient drive while you out-pace the competition. For up to 420 miles of total range, drive in hybrid mode.
Need to charge your battery on the road? Find a DC Fast Charging station and charge your PHEV to 80% in under 40 minutes!

Equipped with a wealth of advanced safety features like MI-PILOT Assist, the 2023 Outlander PHEV is ready to rise to the occasion, no matter where you go. Using cameras and radar, MI-PILOT works to adjust your steering input, helping to reduce speed when navigating curves and keep pace in stop-and-go traffic. That means you can enjoy longer road trips and more enjoyable drives.

2023 Mitsubishi Eclipse Cross
Starting at $25,795*

Blending style with substance, the new 2023 Eclipse Cross is an elevated expression of our Kodawari ambitions. Boasting longer, lither proportions and distinctive sporty SUV styling, an intuitive high-tech interior and the reliable handling of our Super All-Wheel Control1 system, the Eclipse Cross gives you the confidence to go all the way to the top - and beyond. The 2023 Mitsubishi Eclipse Cross perfectly embodies our unending pursuit of perfection.